Painting Tutorial - Comanche Emplacements pt.3
•
Posted on February 05 2020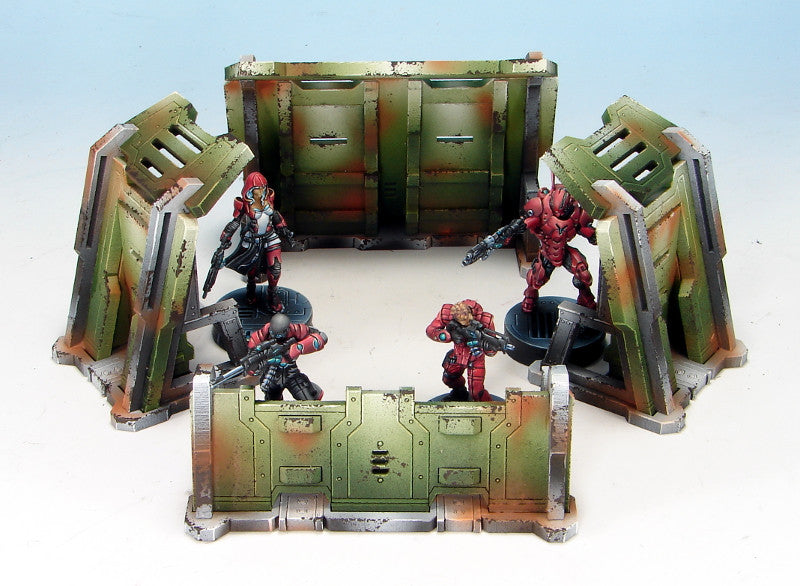 In this final instalment of the Painting Comanche Emplacements Tutorial, we will cover some quick weathering to make these squeaky-clean Emplacements appear more used and lived-in.
First we will add some rusty-dirty effects using an airbrush. We used Vallejo Model Colour 131 Orange Brown with a few drops of VMC 137 Cavalry Brown mixed in.
You can see that it is mostly in places where moisture would collect, like corners and joins.  Some streaks were added dripping down from edges.  The same color was used on both the steel and green portions, often overlapping both.
Next up is some scarring, battle damage and paint chipping.  It is super-easy and fast to do, using the foam that comes in your Infinity: The Game blister packs and boxes.
First, cut off a corner of the blister pack foam with some scissors.
Then trim off the corners so you have a flat surface to use.
Using VMC 150 German Camo Black Brown, dip that flattened end of the foam into it, dab it on a paper towel a couple times to remove excess paint, and stipple on your paint chips (poke the thing with it!).
In no time, those factory fresh Emplacements become war-torn veterans!