Painting Tutorial - Ord Buhkep pt.4
•
Posted on February 04 2020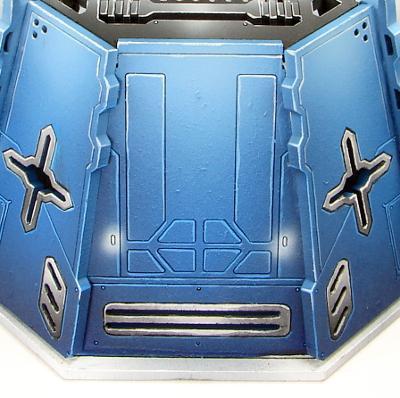 The final bit to paint is the lights that appear on the model.  Almost any little shape of detail can be picked out as an LED if you like, but I have chosen just to do the small ovals on the armor panels as well as the lights over the door frames.
This technique for painting light effects works best over a darker surface color.
Step 1
Using the airbrush, spray in a circular motion pure White onto the LED, letting the overspray form a small corona around the light.
Step 2
Using Orange Minitaire Ghost Tints, spray over the white from the previous step.  The Ghost Tints work great for this effect, but any bright orange thinned down to translucency should work as well.  The overspray should tint the background color a bit.
Step 3
Finally, spray a tiny dot of white back into the center of each LED.  This really makes it appear like it's glowing.
Step 4
Now that the painting is all done, it's time to spray varnish the entire piece to protect it from the rigors of tabletop gaming.  I like to use the affordable Krylon Matte Finish (1311) to varnish terrain.
The pistol-grip tool makes spraying with rattle cans a lot easier on your fingers!
Once the varnish is dry, the Ord Buhkep is ready for the table.  Get your own Ord Buhkep kit here.